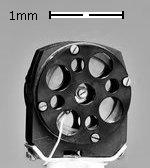 Vibromic is the nickname given to the pea-sized microphones often used in live events such as orchestral performances and music gigs. Due to their small size, the biggest problems during performances is both countering their hypersensitivity and removing the 'tinny' sound they often produce.
They are usually covered in pop shields, which can include larger handles and signal boosters, though most of the harmonic boosting can be covered with external technology.
Ad blocker interference detected!
Wikia is a free-to-use site that makes money from advertising. We have a modified experience for viewers using ad blockers

Wikia is not accessible if you've made further modifications. Remove the custom ad blocker rule(s) and the page will load as expected.